Special Offers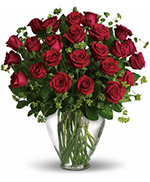 $

189.95
When it comes to romance, the red rose rules! And when it comes to delivering romance in a big way, two dozen gorgeous red roses are a brilliant choice. Twenty-four stunning red roses are arranged with greenery and delivered in a feminine vase. [...]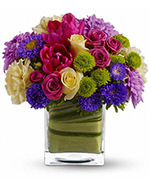 $

74.95
Oh, what a fine day it will be when you have this delightful spring bouquet delivered to someone special. Everyone will delight in the vibrant colors and bountiful blossoms, all thoughtfully arranged in a beautiful leaf-lined vase. Light yellow roses, hot pink spray roses, tulips and gerberas, yello [...]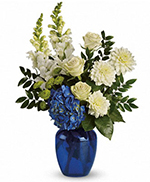 $

79.95
Sending this brilliant blue and white bouquet will surely garner oceans of appreciation from whoever receives it. Dazzling blue hydrangea, green roses and button spray chrysanthemums, divine white dahlias and snapdragons plus huckleberry arrive in a striking cobalt vase. [...]
What's the occasion?
Is it a birthday, an anniversary or a funeral?
What are you planning to give?
The answer - flowers, flowers and some more flowers!
Recent Products
The Best Bloom Brings the Most Beautiful Smile
Is there a specific flower you are looking for? We know that no one can resist the charm of a rose but if you have something else in mind then we will be more than happy to accommodate you.
There are flowers for various occasions and they hold significant meaning. Their symbolization was the key element used to express feelings during the Victorian era. People used them to send coded messages, a practice that was called floriography. Now that people have learned that just like colors, flowers also deliver a special message; they use it for every occasion.
Some of the top sellers that people ask for at our Raleigh flower delivery service include:
Rose for love
Tulips for confidence
Orchids for strength
Sunflower for warmth and adoration
Lilies for sympathy
Daffodils for encouragement
Flowers Are the Best Way to Attract Happiness
Flowers give hope when your loved one is feeling down, a good cheer when things seem bleak and, most important of all, happiness in every moment of life. A single bloom brings a smile on their face... imagine what a bouquet would do!
Every time they see it sitting in the vase, they look at it fondly and remember you.
The Kiss of Love and Condolences in Sorrow
A flower arrangement is the perfect gift for every occasion. Here's why:

It says "I love you" when you want to express how much you care for your significant other
It says, "I am sorry for your loss" when someone near and dear to you has lost a loved one
It says "Congratulations!" when someone graduates with flying colors
It says "Get well soon" when someone opens their eyes in a hospital room
It symbolizes "New beginnings" when a bride walks down the aisle
It says "I am happy for you" when someone close to you has a baby
It stands all majestic on tables at galas and Thanksgiving dinners
Whatever joyous moments you are celebrating, flowers compliment them easily and that's why they have everyone's stamp of approval.
We Deliver Fresh Love
Our floral service in Raleigh prides itself on one thing ― same day delivery. No matter what the time of day, we will take your order and make sure that it reaches your loved one without any delay. This service feature is what sets us apart from our competitors and, of course, the wide array of flowers that we offer for making customized bouquets.
If you are in a hurry then you can simply pick an arrangement from our pre-made bouquets, which are made every day to make sure that your feelings and love are delivered fresh. All you have to do is select a flower arrangement, add a card to it or a gift if you want to create a package and book a time slot. Your bouquet will be delivered on the dot.